AB LOTOS Geonafta is the only Lithuanian company that owns a mobile drilling rig and performs deep drilling operations for different purposes.
The rig is used for exploration and production drilling down to 2700 m depth for the company itself and for its customers. It can also be used for drilling and completion of mineral water and geothermal energy production and water injection wells. All the wells hereinabove may be drilled as vertical, deviated or with the horizontal section.
There is an artificial lift techniques used in every production well. The types of pumps are chosen for each well individually according to the hydrodynamic parameters of the reservoirs. Usually rod, progressive cavity or jet pumps are used.
Specific wells operations
AB LOTOS Geonafta, operating a mobile land drilling rig, carries out the following jobs in the company and customers' hydrocarbon production and other wells:
formation tests and stimulations;
artificial lift installations in the wells;
work over operations;
cementation jobs in the wells;
wells abandonment and suspendment operations;
specific transport services.
Interpretation of seismic data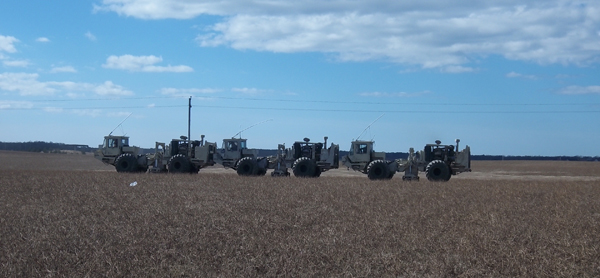 Acquired and processed seismic data is interpreted by company geophysicists. The both 2D and 3D survey data can be interpreted by company staff using GeoGraphix software and its modules (GeoAtlas, IsoMap, LandNet, Prizm, SeisVision WellBase, XSection). As result of the interpretation regional and local structural maps at a different scale are generated, tectonic features and prospects are identified. Besides, reservoir properties distribution is described and "sweet spots" for production wells are highlighted using seismic attributes that are derived from the seismic waves dynamic parameters. The professionals of AB LOTOS Geonafta cooperates with Hampson-Russell company on reservoir properties distribution prediction projects using Strata and Emerge software.
Modeling of oil fields
In order to achieve the maximum hydrocarbon recovery, it is vital to reliably predict future production figures, select both reasonable production rates and recovery techniques during oilfields life. For this purpose AB LOTOS Geonafta geologists and reservoir engineers make geological fields models and reservoir simulations using respective software Geographix and Eclipse-100. With the aid of those models new production wells are designed, production scenarios are planned, pressure drive mechanisms are derived and the necessity of injection wells is determined, etc. The results of modeling help to choose the intensification methods for each well, as well as to improve the overall production from the oil-field and to reevaluate the geological and recoverable reserves of the oilfield.
Also AB LOTOS Geonafta owns Baspro "Optima" software, a geological and production data monitoring and analysis software package. This software package allows storing and analysing geological, geophysical, and production information about oil fields, retrieved fluids, remaining oil resources, and well pressure in a single data base.
Wire line log data interpretation
A larger or smaller complex of wire line logs run in all wells. AB LOTOS Geonafta uses Geographix software Prism module for the processing and interpretation of the acquired data. The results are performed correlations between the wells, compiled lithologic-stratigraphic cross sections, as well as determined lithology, porosity and fluid saturation along the well section.